Message from the Vice Chancellor for International Affairs ,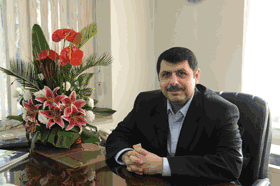 In the Name of the Most High
Dear visitors and academician
Vice Chancellery for International Affairs of Iran University of Science and Technology has the honor to welcome the visitors of this website.
With more than eighty years of education and research history Iran University of Science and Technology is one of the superior universities within the country as well as the region. The scientific and research capabilities of our University have been realized in many research areas in the country. A prestigious example is the launch of Navid-ST Satellite and Zafar- ST Satellite by the efforts of the researchers and scholars of the Space Research Center of IUST.
Vice Chancellery for International Affairs endeavors toward the implementation of the research goals of the university through establishment and expansion of the international cooperation. The perspective of the Vice Chancellery activities is providing and utilizing the opportunities of cooperation with the international credible universities and research centers as well as professional organizations, while organizing and coordinating for promoting our presence from an observer or even a coordinator to a cooperative interaction of production and export of knowledge and technology in an international level.
We wish to achieve this goal with a comprehensive planning and cooperation of all IUST faculty members and students as well as my colleagues in the Vice Chancellery.
Dr. H. S. Shahhoseini
Vice Chancellor for International Affairs
Associate Professor,
School of Electrical Engineering
More information(CV)
Contacts:
Phone 0098 21 77 240 303, Fax 0098 21 77 49 10 31
Address: Narmak, Tehran1684613114, IR Iran